The Benefits of Seniors Having Pets
February 10, 2021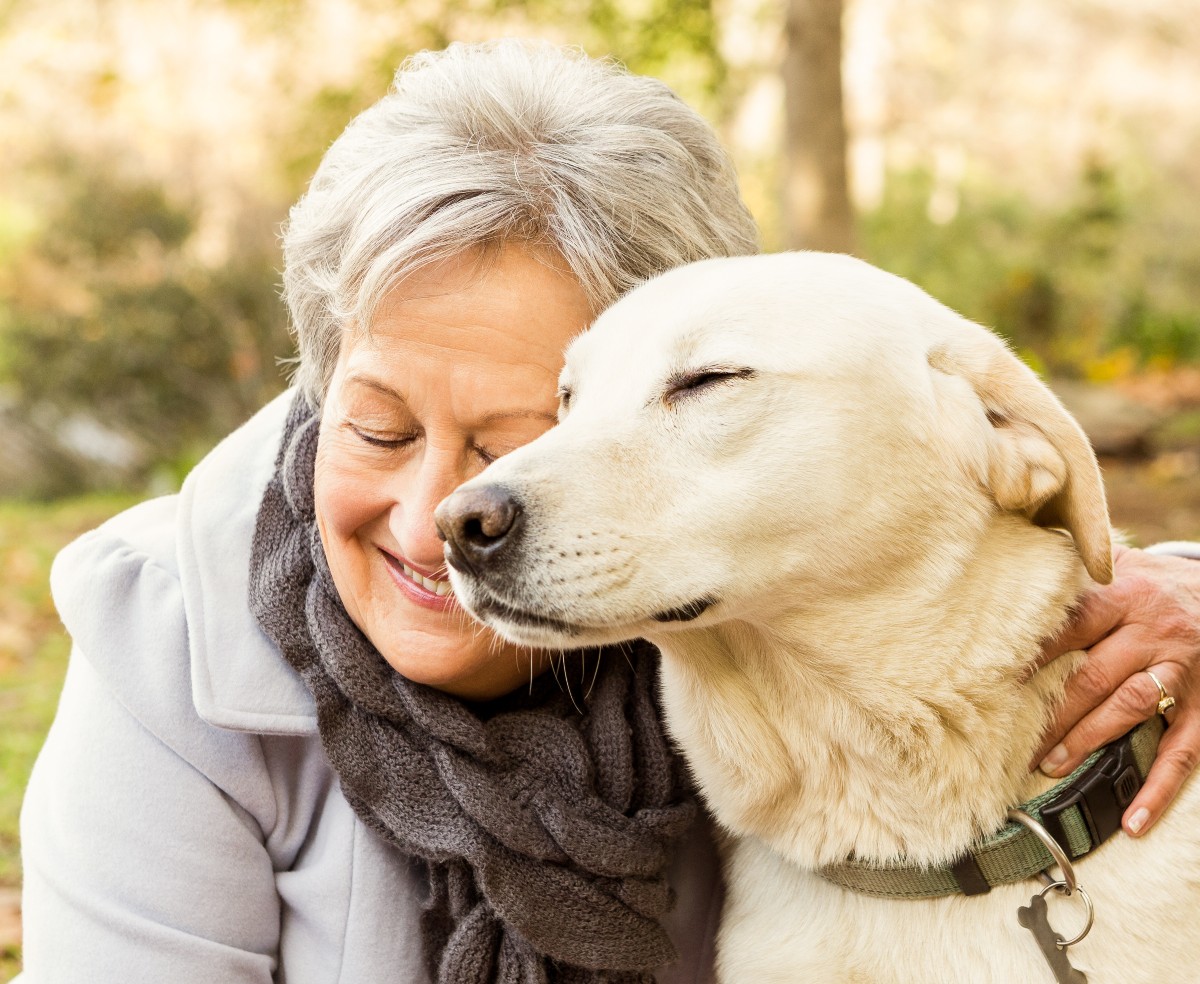 The Benefits of Seniors Owning Pets
Give your love and affection to a dog or cat, and you'll be rewarded with a wagging tail or contented purring. Owning a pet will certainly put a smile on your face, but it also positively impacts your health and wellbeing. According to a study by The University of Michigan National Poll on Healthy Aging, pets boost healthy aging for older adults ages 50 to 80, reducing stress, providing a sense of purpose and encouraging social connections and physical activity.  The benefits of seniors living with pets include:
1. Pets help us stick to a routine.

Structuring our days becomes even more important after retirement. The risk of depression rises when a person feels they have no purpose, and cognitive abilities can decline. Caring for critters adds a predictable routine. They depend on us to feed them at regular times, clean up after them, groom them and play with them.   

2. 

Pets help us stay present.

Dogs and cats live in the moment. They embody the sense of here and now, which can rub off in a positive way because it helps us reframe our thinking, especially if we tend to dwell on the past or mull over problems.

 3.

Pets help us feel happy. 

We know that snuggling with a pet makes us feel good. But why? Holding and petting an animal raises the level of "feel good" hormones in our brains. Bonding with our pets releases beneficial chemicals such as serotonin and oxytocin, which promote feelings of calm and relaxation. In fact, a

study

by the journal Science found gazing into your dog's eyes for five minutes will cause an appreciable boost of oxytocin in the brain. Levels of stress-causing hormones go down, we forget about pain for a while, and the risk of depression and heart disease is reduced.

4. 

Pets help us connect.

Feelings of loneliness or feeling isolated can intensify as we grow older and our social circles shrink. The majority of pet owners feel that

pets make them more sociable

. We believe this is borne out at Sierra Woods. In our pet-friendly community, it doesn't matter if you're a dog person or a cat person! Our resident pet owners love to talk about their pets. They share photos, strike up conversations, compare notes and ask for advice. Owning a pet increases the opportunity for socialization and friendships that will set tails a-waggin'.

 5.

Pets keep us active.

You'll move more when you own a pet. Getting up to let the cat out or in, cleaning out the bunny cage, throwing a stick for the dog — all are forms of mild exercise. Dog owners benefit more than other pet owners though.  A

Swedish study

found that people with dogs had a lower risk of cardiovascular disease, because they walked more and were more physically active than non-dog owners. Dog ownership has been shown to lower blood pressure and cholesterol levels, and most surprisingly, aid survival and recovery from a heart attack.

 
Finding your paw-fect match
While breeders are a source, when you adopt an animal from a shelter, you're rescuing an unwanted animal and giving it a home. Most shelter animals are also already house trained, and past the destructive puppy phase. Older animals, in particular, benefit from being adopted by seniors. They are lavished with love and attention and live a life of luxury. Before you make a commitment to a pet, ask yourself:
Are you set in your ways? Accepting a pet into your life means your daily routine will change. If you can't see yourself being flexible, a pet is probably not a good idea.

Have you had a pet before? It helps to be an experienced dog or cat owner, but it's not a deal breaker. If you're open to a new and rewarding commitment, be willing to learn as you go.

Do you have any physical or functional disabilities? A dog can be a wonderful encouragement for outdoor exercise, but regular walks may be difficult if your mobility or balance is poor. A low-maintenance pet such as a cat, bird or rabbit might be a better choice.

Should you consider a specially trained companion animal? If you need physical and emotional support to function well at home or on outings, you may be a candidate to adopt a specially trained therapy dog, or other therapy animal. 

What age pet is better? Puppies and kittens may not be ideal for an older adult because of the intensive training and care they need at first. Younger animals, and pets such as birds, may also outlive their owners. These are all important considerations in choosing the right pet for you.

What personality works best? Certain breeds of cats and dogs are known for their specific temperaments. Do you want a high-energy terrier? A laid-back Labrador? A vocal Siamese? A cuddly Ragdoll?  Shelter employees are good judges of an animal's personality and can assist you in finding a good match. 
Moving to a pet-friendly senior living community. 
If you own a pet, or are thinking about getting one, make sure the senior living community you're considering is pet-friendly. Not all communities allow pets, and those that do may restrict the type, size or number of pets you can have. Some require a pet deposit or proof of vaccinations as well. Consider:
Will your dog or cat adapt to a more confined space? A dog or cat used to a large yard or being outdoors may not do well in a setting where they're expected to spend more time indoors.

Can you adequately care for your pet? If you're moving to senior living for health reasons, consider your ability to care for and exercise a pet now, and in the future.

Can you afford a pet? Finances change as we age, and the costs of pet ownership can add up. Estimate how much you'll pay for vet bills and food every month to see if it fits within your budget.
We Love Pets!
Our pet-friendly senior living community understands the benefits to seniors of living with pets. We welcome seniors who own pets of all shapes and sizes, with the landscaped grounds of our community being ideal for dogs and their owners to stroll and play. Our staff members often bring in their pets for residents' enjoyment, with Buddy the Golden Retriever being a regular visitor. He laps up the attention — and the treats — when he makes his rounds, connecting with residents and making everyone feel good. Contact us today, learn more about Sierra Winds located in Peoria, AZ. near Sun City West and learn how you and your pet can make us your "forever home."