INDEPENDENT LIVING IN PEORIA, AZ
Independent Living Opens the Door to New Possibilities
Discover a new level of retirement living in Peoria, AZ. — surround yourself with interesting neighbors, fun activities, easy wellness options and a maintenance-free lifestyle. You can seize the opportunities in each day because with Life Care, you know you'll have access to higher levels of care if you need them.
To learn more about independent living in Peoria, AZ, complete the contact form on this page.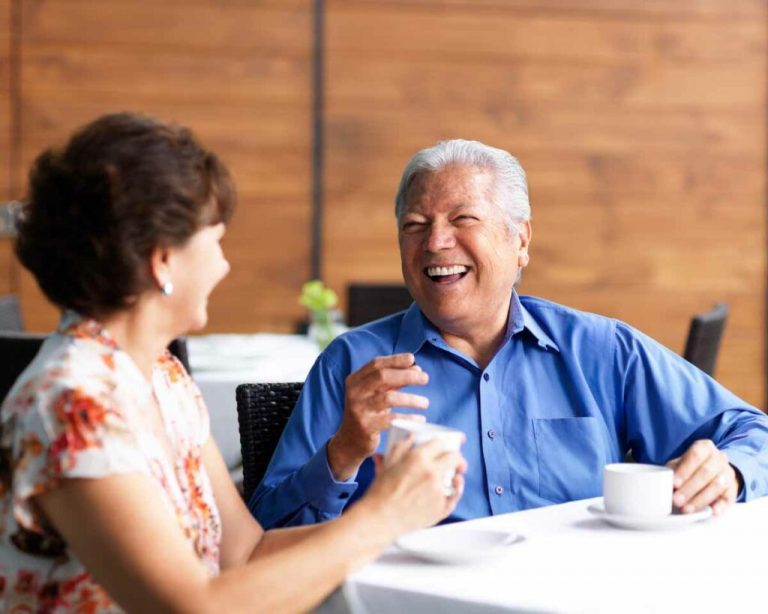 Independent living at Sierra Winds means more freedom to do what you love.
As an independent senior living resident at Sierra Winds, you have access to all the services and amenities on our campus, as well as the culture and resources in Peoria, AZ, near the Sun Cities.
Weekly housekeeping and flat laundry service 
Interior and exterior maintenance 
All utilities plus DIRECTV® 
Flexible dining in the casual Sierra Bistro or The Palms restaurant-style dining room 
Wellness programs focused on emotional, physical and spiritual health 
Full schedule of social and recreational activities and events 
Volunteer program 
Outings and daytrips to social, cultural and sporting events
Scheduled transportation 
Full use of on-site health center and rehabilitation center 
Unlimited/lifetime on-site skilled nursing care, if ever needed 
Innovative post-operative stay program 
24-hour emergency system, fire detection and sprinkler system
Beautiful grounds with courtyard fountains, sitting areas and walking paths 
Common living areas for socializing 
Heated swimming pool and spa 
Fitness center 
Free assigned well-lit, covered parking 
Marketplace convenience store 
Arts and crafts studio 
Woodworking shop 
Billiards/game room
Beauty salon/barbershop 
Library with Wi-Fi access 
Interfaith chapel 
On-site ATM 
Guest Suites 
Additional Storage 
…and much more!
An assortment of floor plan options lays the groundwork for you to create the perfect senior apartment. You can individualize your space with your own furniture to reflect your taste. It's your home, but now you can just enjoy it and have a dedicated maintenance team to do all the heavy lifting.
Each independent living apartment comes with a full kitchen, but when you don't feel like cooking or doing the dishes, you'll always have a table at one of the restaurant-style dining venues. Our talented dining team serves a variety of delicious dishes with kindness and professionalism.
We understand some seniors may require a little assistance, but not 24-hour care. Sierra Winds has a solution for them as well. Resident Services offers a menu of support options for seniors to choose from to help keep them as independent as possible. Whether they need help with bathing or dressing, medication reminders, wheelchair assistance or short treatment visits, qualified health care team members will come to their residence to provide professional, respectful support. Residents who take advantage of this program pay only for the services they need, when they need them, and can continue to enjoy an enriched lifestyle as an independent living resident without having to move to a higher level of care.
Frequently Asked Questions
Independent senior living in Peoria, AZ. gives active and independent older adults an opportunity to enjoy their current lifestyles without the burden of home maintenance. At Sierra Winds, residents enjoy a worry-free and rewarding lifestyle in their choice of senior apartment homes with a wide array of services, amenities and friends right outside their door.
Independent living in Peoria, AZ. is perfect for people who want to maintain their current active lifestyle without the responsibility of home maintenance. You'll have the freedom to pursue your passions, volunteer, spend time with family and friends, even travel to faraway places — knowing that someone is looking after your home while you're away.
Here, you'll find comprehensive services and amenities offerings, including restaurant-style dining, casual dining, full-service salon and barbershop, interfaith chapel, fitness center, heated pool, and more. Plus, our complimentary transportation will take you wherever you need to go.